WhatsApp, the popular messaging application, is gaining more and more ground in user preferences. However, although many people use it daily, they are unaware of some of the… secrets it hides.
So, after the "hidden" features of Viber that iefimerida.gr introduced in its related text, today we are listing some of the useful "tools" provided by WhatsApp that you may not know about.
The 5+1 "hidden" features of WhatsApp
Reading a message without appearing to read it
Surely it has happened to everyone that they do not want to answer a message that has arrived on WhatsApp, either due to lack of time, or due to lack of humor at that moment. So, so that your boyfriend or girlfriend does not see the blue marks (✓✓) in the conversation between you, which shows that you have read the message he sent you, you must follow these steps:
When you get the message, don't read it. Also, dismiss any notification on your home screen.
Then turn on airplane mode (which turns off wi-fi and mobile data).
Next, open WhatsApp and read the message.
Finally, close the app completely and turn off airplane mode.
Although you will have read the message, there will be no blue indicator in your chat. However, it will turn blue when you enter WhatsApp again. So, if you don't want your interlocutor to know that you have read the message, don't touch WhatsApp at all.
2. Put your message in bold and italics
Whether you are an event organizer or just want to remind a loved one of something important, WhatsApp gives you the ability to change the default message writing provided by the application and writing in bold (bold) but also obliquely (italics) letters. All you have to do is add specific symbols between your message.
Specifically: TO) To write bold between your message, place asterisks. Example: *…*. B) To write with the form italics between your message place underscores. Example: _…_ .
3. Hide from other users when you were active
If you want to hide when you were last logged into the app, WhatsApp makes it quick and easy for other app users to… lose sight of you. To do this, you must follow these steps:
Step 1: Launch WhatsApp and click on the three dots in the upper right corner.
Step 2: Select the configuration.
Stage 4: Touch the "privacy" option.
step 5: Then select the "last connection" option and then tap on the "none" option.
It should be noted that other functions are provided in this section, such as hiding your profile photo, but also information about who can see data about you.
4. Start a chat with instant messages
Another option available to users is to start a conversation with ephemeral messages, that is, with messages that will disappear after a certain period of time. On WhatsApp, specific messages can last anywhere from 24 hours to 90 days.
To activate this function, you just have to start a conversation with one of your contacts by tapping on the name or number with which you have them registered. Then enable the "ephemeral messages" option, which is initially disabled. Choose how long you want your messages to last and that's it…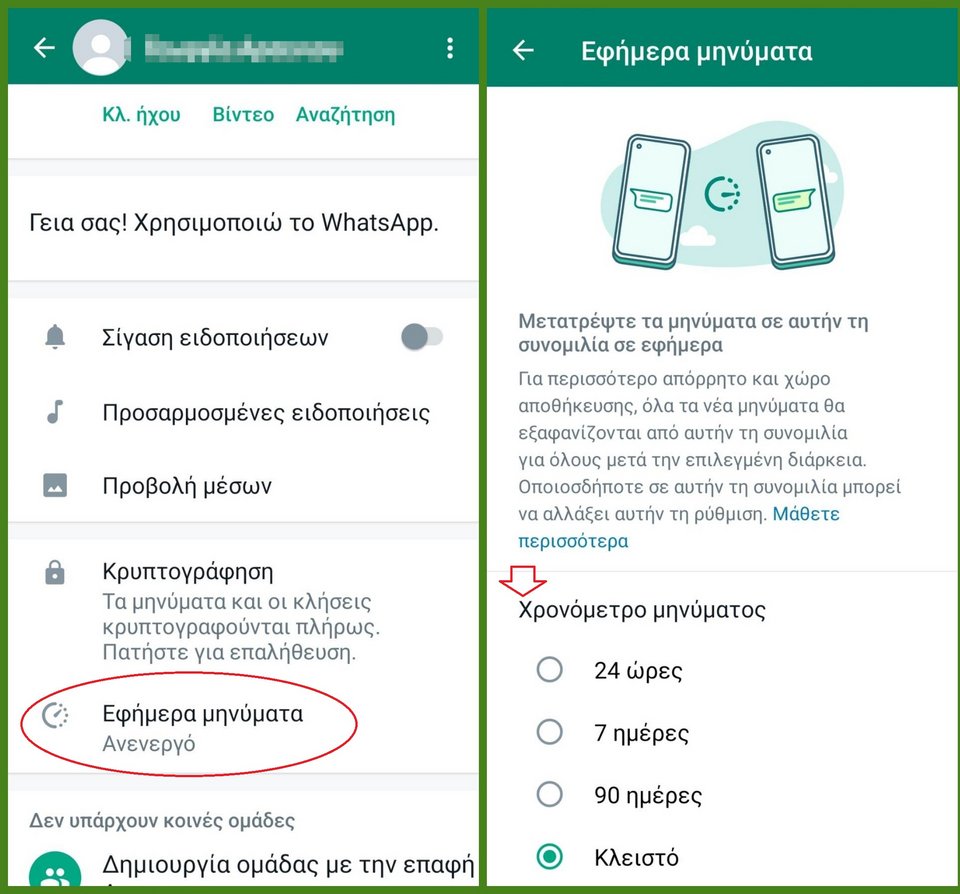 5. Send messages to multiple contacts without a group chat
Most of the time, when we want to send a message to many recipients at the same time, we create a group chat. How is this possible? The steps to follow are simple: First enter the application and press the three dots that appear at the top right of your screen. Immediately after selecting the option "New Notification" and then select the contacts you want to send the new message to. After selecting them and writing your message, you're ready to send.
6. Chat without exchanging phone numbers
All that is required for a WhatsApp conversation is that our interlocutor knows our phone number. Or maybe not; WhatsApp offers the possibility of starting a conversation without giving our mobile phone number. The personal QR code that each app user has is enough.
To find it, all you have to do is tap on the three dots at the top right of your WhatsApp screen. Then select "Settings" and then you will see the QR icon on the top right next to your name. You can forward it to the person you want to chat with by mail or through another app, without revealing your mobile phone number.
source: iefi merida